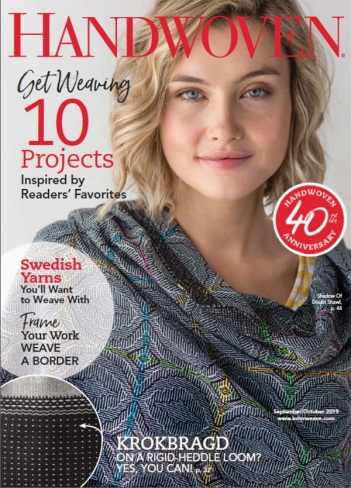 Connect with the handweaving world through Handwoven. Every issue is packed with projects, instruction, and inspiration to help you build technical skills and design confidence.
Your order is protected by our money-back guarantee.

U.S. Print & Digital Subscription
Canada Print & Digital Subscription
Intl. Print & Digital Subscription*
Things Are Going to Look a Little Different Around Here
Long Thread Media LLC, a new company formed by Interweave founder Linda Ligon and longtime editor Anne Merrow, announced that it has purchased the publications and products related to handspinning, handweaving, and traditional needlearts that were formerly part of Interweave.
"Looking at these rich, niche crafts, we knew that they needed a very personal approach in order to thrive today and in the future," says Merrow. The three subscription magazines—Handwoven, Spin Off, and PieceWork—will continue publication and remain at the core of the new company, which will also develop video, multimedia, events, print, digital, and other products in those crafts. "Spinners, weavers, and traditional textile buffs count on au-thentic community and solid technical information. Linda and I know them; we are them," Merrow adds. Read the full press release.
* International Subscription includes anyone outside of the U.S. or Canada. Your subscription will start on the Nov-Dec issue.
Inside Every Issue of Handwoven:
Weavers Everywhere Rely on Handwoven - Here's Why

Beautiful Weaving Patterns – With easy-to-follow, step-by-step instructions to guide you.
Weaving Basics – Lessons for beginners that even avid weavers will love.
Gorgeous Photos – Stunning photography of every project with close-ups that show important details.
What's Happening – Current up-to-date information about the world of weaving, new products, and resources for your library.
Tips, techniques, and tricks of the trade – Help you stay on top of your game.
Handwoven is the go-to resource for everyone interested in weaving, from beginners to seasoned professionals. With Handwoven by your side, you'll quickly feel like you are a part of the weaving community. Each issue introduces you to interesting weavers and is filled with project ideas, in-depth technical discussions, book reviews, and helpful hints that will make your weaving fun and efficient. You'll learn how to use the latest tools and always be among the first to know about new innovations or creative ideas.
Automatic Renewal Details: We will charge your credit/debit card at the plan price before each new subscription term until you cancel, which you can do at any time. Cancellation can be done by emailing [email protected] or by cancelling the subscription in your subscription profile.